Hot food / Main Menu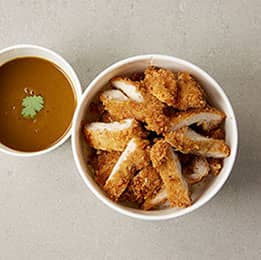 Chicken
Katsu Curry
One of our most popular items available: panko breaded chicken thigh paired with our exquisite curry sauce, offered on a base of either steamed rice or noodles. Enjoy the ensemble of rich and flavourful Japanese curry with the finest chicken!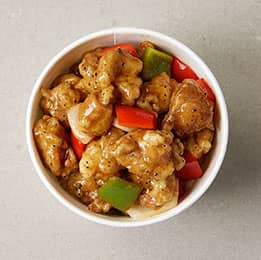 Sweet &
Sour Chicken
Crispy chicken stir-fried in a sweet and sour scrumptious sauce with crunchy peppers and fresh vegetables. A classic dish receiving the steadfast love of our customers.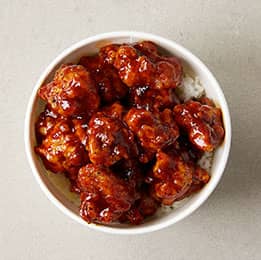 Sweet
Chilli Chicken
Sweet Chilli Chicken strikes a beautiful balance of pleasantly sweet, savoury and succulent flavours with every bite. Indulge yourself in this unique harmony of flavours.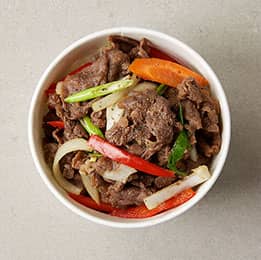 Kokoro
Beef Bulgogi
Inspired by Korean BBQ beef, this is one of our favourites. It's hard to not to be addicted to the tangy flavour of Korean bbq sauce that perfectly matches with our beef!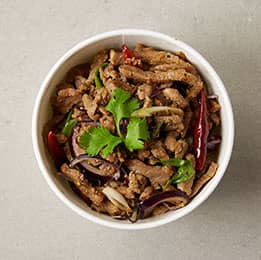 Spicy
Pork
Spice up your taste buds with another one of our signature dishes. A collaboration of shredded pork collar with a hint of soy sauce, coriander and chilli – creating an explosion of flavour.
Spicy
Tofu
Jazz up your tofu with our chilli bean based sauce mixed in with a variety of fresh vegetables. While tofu can be bland on its own, our sauce ensures that every mouthful is bursting with flavour.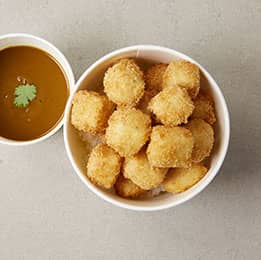 Tofu Katsu
Curry
The newest addition to our menu: Kokoro's signature curry sauce on a bed of soft tofu individually coated with crispy breadcrumbs. A great option for those who prefer a lighter option to our chicken katsu curry.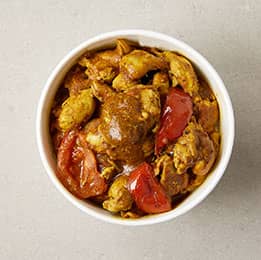 Spicy
Chicken Curry
Smooth chicken meat fuelled with bold spicy curry sauce garnished with fresh vegetables.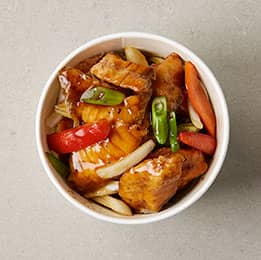 Salmon
Teriyaki
Glazed salmon topped with our tangy Kokoro teriyaki sauce. An irresistible and nutritious choice – grab it before it's all gone!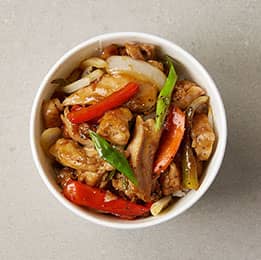 Chicken
Teriyaki
Chicken teriyaki is an absolute Japanese classic. Our unique teriyaki sauce pairs exquisitely with the chicken, creating a delightful mix of enriching flavours!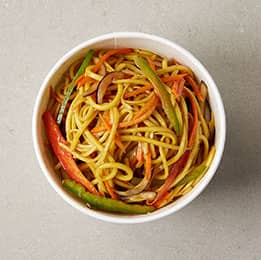 Vegetable
Yakisoba
It's hard not to fall for Yakisoba when you hear that sizzle from the delicious fruity sauce being poured over the noodles. An all-time favourite for everyone, including vegetarians!
Seafood
Udon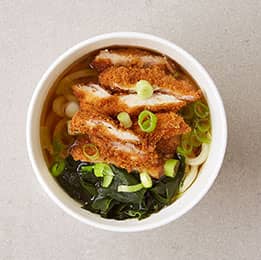 Chicken Katsu
Udon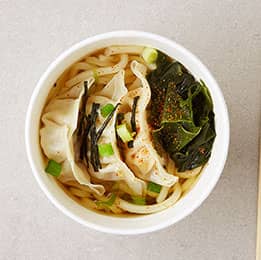 Chicken Gyoza
Udon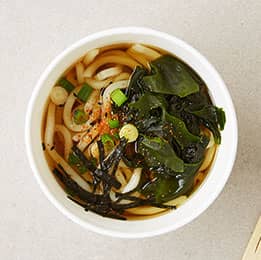 Kaki
Udon